Animated Horse Quilt (Original Size)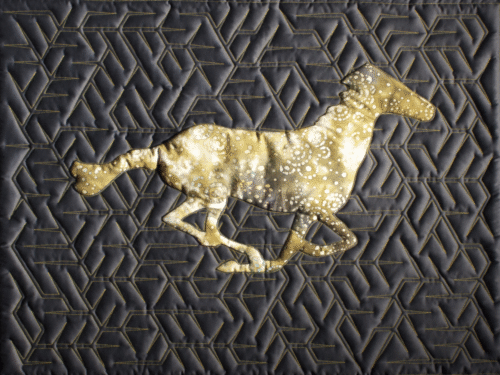 Animated Horse Quilt (Original Size)
This animated quilt consist of twelve frames of Eadweard Muybridge's 1878 photographic study of the horse in motion. The quilt as a whole presents all twelve frames as a 94" square high-loft quilt. Display it on a wall or use it on a queen- or king-sized bed. It doesn't actually move!
Each horse is rendered with a different beautiful batik fabric thorough a reverse appliqué process. The quilt is stitched with individual layers of batik for each horse, covered by a layer of black fabric over everything. After stitching is complete the black fabric covering the area of each horse is cut away, revealing the batik underneath. The thread color of the pattern surrounding each horse beautifully reflects the unique colors in each horse.
This quilt is technically machine washable, but raw-edge applique is delicate so please don't wash it too often - and dry clean only if you want to make sure it doesn't shrink or pucker.